Sustainable solutions for homes, shops, and offices
Glasshield supplies and installs premium window film in New Zealand homes, businesses, and public organisations such as schools. We've been providing Kiwis with top-quality advice, products, and service for more than 20 years. We're the glass film company that doesn't fade away! Glasshield services the North Island, based out of Auckland, Tauranga, and Wellington.
Why use Glasshield for window film?
Nothing's too much trouble for our dedicated team.
We service most of the North Island
Our window film solutions
We bring extensive product knowledge and experience installing glass film in New Zealand commercial and residential buildings to your job. This gives us the edge in ensuring you get the product that most effectively meets your requirements and location.
Better Privacy
Our advanced reflective film gives you enhanced privacy and a great view through your glass, day and night.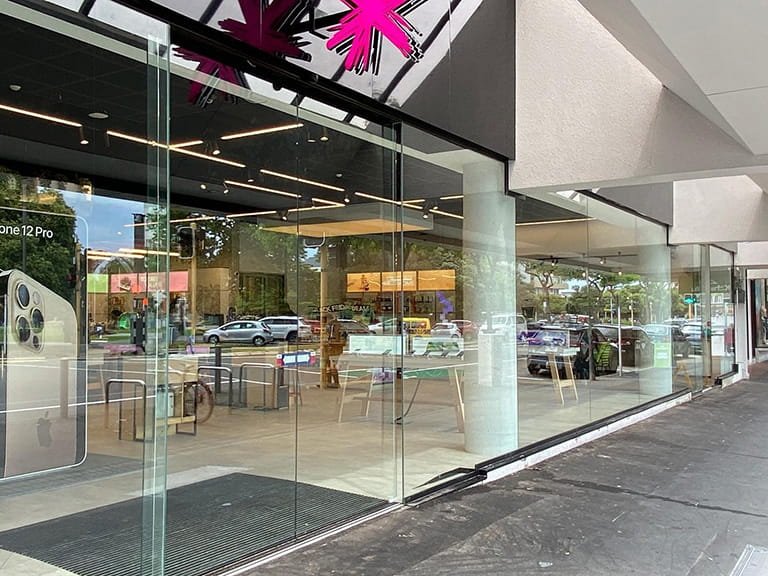 Glass Protection
Get peace of mind with our protective films. They prevent glass shattering, and deter graffiti and break-ins.
Sustainable Focus
Installing window tinting film produces no waste to landfill compared with glass replacement.
Energy Efficiency
Save on energy costs by improving the thermal performance of your glass surfaces.
When Glasshield applies window film products to the glass surfaces in your building, we offer a comprehensive warranty that covers you for the life of the product (12-18 years):
Maintenance of solar reflective properties without peeling or cracking.
Maintenance of adhesive properties without blistering, bubbling, or delaminating from the glass.
Maintenance of appearance without discolouration.
We stand behind our products and aim to provide the highest standards of customer service. Glasshield is a member of WFAANZ, the peak industry body for the Australian and New Zealand window film industries.
What are Glasshield customers saying?
Excellent
5.0
★
★
★
★
★
Based on 50 reviews from
review us on
Dinah Lee
★★★★★
Very happy with Glassshield Wellington very professional Brent knew exactly what was needed with my two glass doors.
David Crichton
★★★★★
Great guy with great service. Quick to respond to a message left, truly knowledgeable about his product. Friendly, prompt clean and tidy. Would recommend Glasshield Wellington to anyone.
Ra Redden
★★★★★
Great prices and Quality to go with it
Stephanie Gibson
★★★★★
I couldn't be happier with the service, expertise and results. Our windows and doors look fantastic. The tinting has substantially reduced heat and glare. Brent was exceptionally helpful and professional. Fantastic service!
Andrew Craig
★★★★★
Super knowledgeable, organized, tidy and efficient.
Simon Rooke
★★★★★
Super happy with the service, advice and expertise Brent offered.From initial inquiry to completion of the installation took less time than expedited and Brent was available to answer our every question. Also very happy with the price and quality of his workmanship.If you want UV protection for your home, Glass Shield is highly recommended!
Lisa Mulitalo
★★★★★
Brent did an amazing job on our windows creating privacy in our bedroom and helping manage the UV making our home office very hot when it's sunny. He was super professional and helpful. Highly recommend.
Kim and Dave Crichton
★★★★★
Excellent communication and service. His work was clean and tidy. I highly recommend this business.
Robert Grinling
★★★★★
Brent was on time, performed a professional job. Excellent result. Highly recommended
Justin Bretherton
★★★★★
Fast, reliable service with quality workmanship. Would not use anyone else.
Mandy Gill
★★★★★
Brent is highly organised, professional and reliable. I would have no hesitation in recommending his company to anyone. I'm delighted with the results of his work.
Hélène Meijn
★★★★★
The UV shields were skillfully placed.It was a pleasant experience, I got answers about whatever I asked according the job.
Chantal Heller
★★★★★
Efficient, friendly service. Brent is a perfectionist in his work, love the end result.
Shiloh Forrest
★★★★★
I contracted Glass Shield to supply and fit obscure glass films to a commercial project in Wellington. Brent's service was prompt and quality, exceeding my expectations. Highly recommended!
Ian and Pip Twomey
★★★★★
Great communication, efficient and professional - we highly recommend Brent. Our job was quite challenging but he was cheerful and very positive! A fantastic result.
Ali Middleton
★★★★★
Brent replaced the privacy film on our bathroom windows. Prompt & professional service - and a flawless result.
jayboyd83
★★★★★
Wanted added privacy in the living rooms facing the road. Brent was prompt with providing a quote and was able to fit us in the next week. Quick service and an exceptional install.Highly recommend
Joanna Reriti
★★★★★
Highly recommend Brent. He is very quick to respond, is clean, thorough and efficient. Did a quality finish on my windows in no time at all and I absolutely love the end result.
Sonia Glogowski
★★★★★
Prompt arrival and efficient installation. Would definitely use again. Thanks heaps.
Betty Porter
★★★★★
Simply superb in every respect. From initial contact to investigate removal of UVTech film to quote to replace right through to instal of new film. Could not fault in any way. A real pleasure to deal with and quality of work is fantastic. We are very pleased.
Preemptive Strike
★★★★★
Brent was super helpful and informative with getting measurements for the quote and answering questions about the window film, and efficient with the installation. Highly recommended.
Zac .A
★★★★★
Brent was super knowledgeable, friendly and offered great service and advice on what tinting to use throughout our house. Highly recommended, if we decide to do other rooms he'll be first on our list
Dieter Timmerman
★★★★★
I can highly recommend working with Brent and his team. His knowledge ensures you get the best possible solution.
Richard Hamilton-Williams
★★★★★
Tracey Walker
★★★★★
Brent's service was excellent, providing same day service only two days before Xmas to install privacy window screens in our workshop/garage.You can see that Brent is an expert in his field just by observing the way he works. Our window films were perfectly installed in under two hours, no bubbles and provide the perfect privacy screen while letting light in.I would definitely recommend Brent's service if you are looking for a trustworthy and professional installer for any glass shield product.